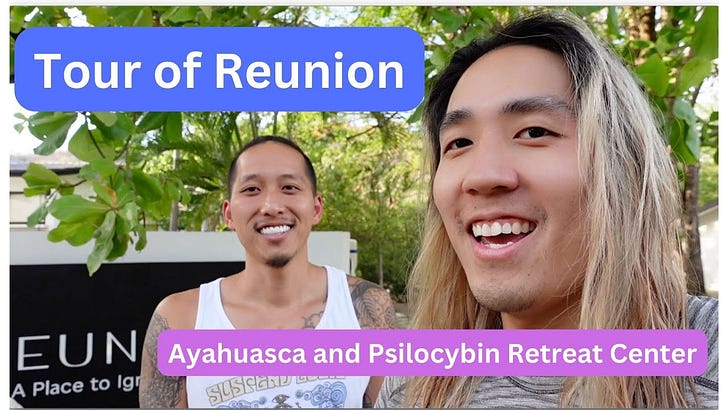 Apr 8 • 1HR 17M
Tim Sae Koo | Founder, Angel Investor, and Ayahuasca Facilitator
Video Tour of a Retreat Center Followed by a Humbling Podcast!
Pivoting a startup. Founder of Athens Research (YC W21). Medical tourist
Tim Sae Koo is a founder, angel investor, and ayahuasca faciliator.
Today's release has both a video as well as a podcast — two separate pieces of content.
Video Tour
The video is a tour of Reunion, the plant medicine center where Tim currently resides and works at.
Podcast
The podcast is about Tim's journey as an entrepreneur, angel investor, and now plant medicine facilitator.
You can also listen to this on Spotify, Apple, or YouTube.
We talk:
The hard pivot he made from B2C to B2B for his first startup.

The growth hacks he did to bootstrap to millions of ARR and get acquired, and how the product is still running and making money today!

Some of his angel investments like Third Wave and Weekend Fund (as an LP).

Why he invests in plant-based alternatives both for personal reasons as well as from a thesis point of view.

The life hard pivots he made from tech founder to nomad to ayahuasca facilitator.

The upbringing which led to the chip on his shoulder, and how it went away.

Background on the founder of Reunion, Brad, who built a hundred million dollar+ company over 25 years, did ayahuasca, which prompted him to sell his company to a PE firm, come out of the closet as a gay man, and together with his wife amicably conclude their 25-year marriage.

The difference between religion, which is necessarily coupled with power structures versus plants, which have no ego.

The three common personas of people who do ayahuasca retreats.

How he explains what he does to his Christian, Asian immigrant mom.

What he means when he says he has "two lifetimes of work."

Why you gotta "feel the feels to heal."

What advice he has for founders, creators, and leaders hard pivoting.

Why people in the normal western world are addicted to food, their phones, alcohol, and work.

How psychedelics are really a crusade against pharmaceutical world: anti depressants, SSRIs, anti anxiety, etc.

How plant medicine lets people reinterpret the relationships and narratives they have with trauma.

How entrepreneurs can weave surrender, spirituality, and consciousness into their startups and lives, leading to magic and intention.